About AIZA
AIZA Designs is a design and manufacturing brand established in 2011. It believes that India is many countries in one. No other country offers such cultural diversity or design inspiration. AIZA's furniture collections are inspired by iconic elements in the Indian culture that have stood the test of time. Every piece of furniture that you see at AIZA is exclusive and one of a kind. We curate every design and carefully select the designers who we feel best fit our vision and passion for furniture design. Apart from furniture AIZA designs interior spaces and customized home decor and furniture products.
We are proud to say that the first Biswa Bangla outlet at the Kolkata Airport. Biswa Bangla has been designed by AIZA. This flagship store was inaugurated by Honourable Chief Minister Mamata Banerjee on Februrary 22 and is open to public since February 26.
AIZA is committed to working with local artisans and craftsmen, taking the art onto our furniture designs thereby making them unique, thus enabling their craft to be promoted and made accessible to people. AIZA's creations are a modern interpretation of our quintessential Indian-ness.
All AIZA's collections and designs are on www.aizadesigns.in
For further information please write to ipsita.johri@aizadesigns.in
ABOUT FOUNDER IPSITA JOHRI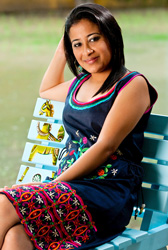 Having spent more than 10 years in the media world, with PR and then Marketing, in some of the best brands and entertainment companies of the world like The Walt Disney Company and Sony Pictures, and having dabbled in the telecom industry for a while at Tata Teleservices, where I was the youngest employee, across the various Tata Group of Companies, to qualify in TBEM (Tata Business Excellence Model) as an internal assessor for the Company, I finally decided to do what was always my passion - make creative furniture.
Growing up in the old districts of Bengal, living in the British constructed houses, the fascination for wooden furniture, long byzantine pillars, high ceilings and fabulous architecture, along with their history, inspired me to push my creative cells that crystallized in the unique concept of AIZA.
This allows me to indulge in discovering India and its people, and in that journey, creatively interpreting cultures and developing them into designs for AIZA's collections.
Furniture is my passion. Along with that, I enjoy reading, watching movies only in cinema halls as that still thrills me, travelling and collecting artefacts, and music and classical dance remain my best pursued skills.